2018-09-06
NEW COMPLAINTS AND RETURNS DEPARTMENTS
As we promised, on this day we want to present new functions related to making complaints and returns of purchased products. Together with programmers, we've adjusted template elements of wholesale to our customers' needs. Thanks to these functionalities, you have the opportunity for efficient management of returns and complaints and we will be able to attend your notifications faster.
NEW COMPLAINTS MODULE
After the first release of new RMA and returns modules, we´ve noticed that the path of online submission of forms is too long. For this reason, as far as possible, we've reduced the number of steps, in each module, from six to four. When an opportunity presents, we will want to shorten this process even more.

The substantial problem, when it came to creating a complaint/return, was to search a particular order in which was located a determinate product. That's why we've added a products preview for orders, at the time of making complaint/return. Thanks to that, you can check easily from which order come the product for complaint or return.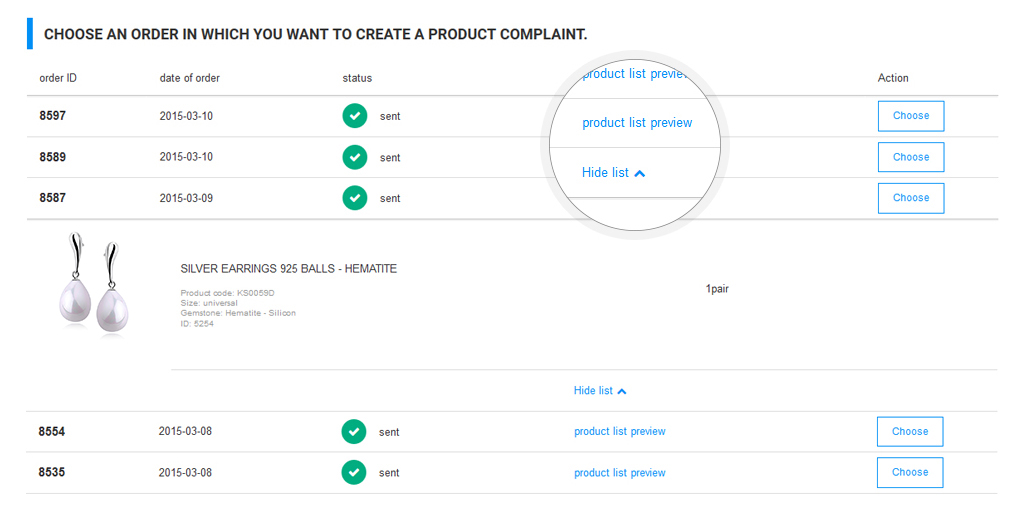 Once you select the order that you want to make a complaint about, you will receive an information about the type of guarantee and the system will determine whether you can make a complaint about that product, or a guarantee period has expired.
In the field "Describe fault" enter the information about why you make a complaint and what happened to it. This is important for us because not all is "visible to the naked eye". Filling of this field is required to activate the further process of adding a complaint.
If you want to make sure that your complaint is legitimate, before returning the damaged product, you can attach photos of fault/damage. Ask a question via chat, which is available upon submission of the online complaint, if the guarantee covers this particular problem. Photographs will be also helpful in cases of faults which are difficult to notice.
When a complaint is generated, please just give us a moment to confirm it. Complaints service will examine your complaint notification and will set status "Confirmed". After the receipt of the message about the change of status, you can be sure that your complaint notification will be accepted and will be forwarded to process of complaint-handling.
It is sufficient to insert complaint number or complaint form into the parcel. The complaint form will be available after receipt of "Complaint accepted" status. Such a form is useful for those who like monitor business processes "on paper". You can keep it for yourself if you find this way of notifications management much easier.
As we've mentioned before, we will be working towards the best possible information system concerning orders, complaints and returns. Therefore, in the summary preview of the complaint, you are always up to date with current status relating to your notification. The information from the hotline consultant is based on data available for viewing. Also remember that when you submit a complaint, you still have some time to edit or cancel your notification.

However, if you have any doubts about submitted notification, you can consult us via chat, available in the summary. The chat will be related only to the notified case.
In this way, the communication will take place in a suitable site and we guarantee that your message will be sent to the right person involved in your case.
The chat box is available in the summary of the complaint, during its procedures. Remember that hotline consultants don't handle complaints and they can give you information only from the summary.
When we reply to your message from chat, you will receive an e-mail notification.

In order to maintain the coherent communication relating to your notification, it is important not to respond to e-mail: "You have just received a message to your complaint: XYZ", but click the button VIEW THE MESSAGE. Then, the page with complaint summary will be opened, where you will see the chat box together with the previous conversation about this particular notification.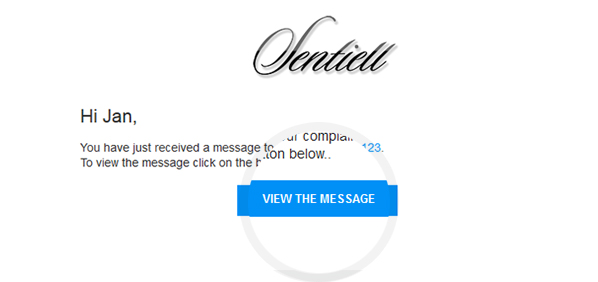 NEW RETURNS MODULE
The possibility to return goods within 10 days is one of the key facilitators that have a bearing on the decision to start cooperation with wholesale Sentiell. For this reason, this system is already very well-known and has proved to function excellently. In this module, we've made some cosmetic changes which have made this department more attuned to our services and more user-friendly. In addition to the drop-down list view previously described, we provide more information about return status which is available in return summary.

After various requests from our clients, we've added the possibility to return several pieces of one model. This function wasn't previously available, what makes electronic returns notification more difficult. Obviously, this was non-intentional, that's why, in the new template of wholesale, this problem won't certainly occur again.

We hope that these user-friendly interfaces and functionalities of the new Complaints and Returns departments will be received positively. If you notice any error or if you have a suggestion, please, contact us.

In the near future, we will provide our clients with an entirely new form of orders verification. You no longer have to go through these invoices and verify whether the particular product has been delivered properly. We will create for you a new tool, which let you mark easily a product as verified. By that functionality, you will verify and set prices for products in a much quicker way.